Stockist Spotlight: Christopher Michael the Salon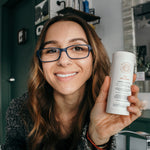 We're back for another Stockist Spotlight! I have the pleasure of working with some really amazing fellow small business owners who bring florapothecarie into their shops, both online and brick & mortar. This series will introduce you to some of those shop owners and give you a glimpse inside the shops themselves. We hope you enjoy getting to know our stockists, and if you see a shop you love, please pay them a visit to support small, local businesses! See all Stockist Spotlights here.
Meet Deana Merola of Christopher Michael the Salon
Deana is a breath of fresh air ~ an old soul with the kindest of hearts. Finding her was total kismet. I'd had a falling out with my former friend/hair stylist, which not only was emotionally painful, but also... I needed to keep my pink locks bright and happy! I discovered Deana via Instagram after seeing this gorgeous pink balayage photo. I clicked over to where she worked (owned!), Christopher Michael The Salon in Wallingford and found it was a certified sustainable salon that uses vegan, natural, eco-friendly products and I was enamored. I booked my first appointment, brought a wholesale catalog with me, talked about natural skincare, dogs, how to make tofu edible, and it was like we'd known each other for ever. I joked that her salon shares the same name as my brother and half expected to meet the gay version of him, but the salon is actually named after husband. ❤️
florapothecarie: What makes Christopher Michael The Salon unique? Why should someone choose you over another salon? 
Deana Merola: Christopher Michael the Salon offers a unique and intimate setting in the heart of downtown Wallingford. We are a Certified Sustainable salon, meaning we recycle and divert up to 85% of our waste out of the landfill. Proudly offering Eufora products, an aloe vera and plant-based line infused with certified organic essential oils, for both color services and take-home retail. We care about keeping your hair and the planet beautiful!
fp: What's your favorite florapothecarie product?
DM: I love everything florapothecarie is. Your mission, your products, and especially your eco-friendly packaging. I strive to live a zero waste lifestyle and I am very health- and product-conscious, so having these products in my self-care line up was a game changer. My favorite product is the DRY SHAMPOO! Being in the beauty industry for 11 years, this is the first truly all natural, non-aerosol dry shampoo, I've come to use and love. The ingredients are so pure, clean and minimal, all things that are important to me.
fp: Why do you carry florapothecarie at Christopher Michael The Salon?
DM: Offering an all natural, handmade and local skin care product was the missing link to my eco friendly and cruelty free hair salon.  Besides the fact that your company's values are so in line with my personal ones, the quality of your products are unbelievable. Since I myself am a Small Business, I love the idea of supporting another Small Business owner with products I believe in and use.
Visit Christopher Michael The Salon at 148 Center Street, Wallingford, CT. Check out their latest specials, cuts and colors on Instagram.