GOOD FOR YOU, GOOD FOR THE PLANET
| | | | | | | |
| --- | --- | --- | --- | --- | --- | --- |
| | | | | | | |
| 100% Natural | Made with Organic Ingredients | Made with Fair Trade Ingredients | Handmade with Love by an Herbalist | Eco-Friendly & Recyclable Packaging | Leaping Bunny Certified as Cruelty-Free | PETA Certified as Cruelty-Free & Vegan |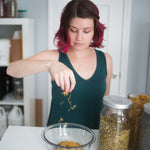 100% NATURAL | CERTIFIED VEGAN | WOMAN-OWNED
Handcrafted by an Herbalist
Connecticut native Sami Jo Artus has always believed in the healing, calming, and beautifying power of nature.

Inspired by Mother Nature and infused with floral essences & plant extracts, each product is lovingly handcrafted and packaged in eco-friendly glass & paperboard containers.

You're a natural beauty; keep your beauty natural.™
About florapothecarie
Customer Favorites
Your Fellow Natural Beauties Love These
New to Natural?
Our skin is our largest organ, absorbing over 60% of what we put onto it. Are you giving it toxic chemicals or nourishing natural ingredients? 
Get tips on making the switch to clean, green beauty.
Learn More About Going Green
Green Your Skincare Routine
Clean up your beauty routine with non-toxic natural skincare products that actually work.
It's as easy as 1, 2, 3:
Don't just take our word for it ~ here's what your fellow natural beauties have to say:
⭐️⭐️⭐️⭐️⭐️

Deodorant Cream (Baking Soda Free)

"The only natural deodorant that works for me!! I've tried a few non-toxic deodorant pastes (Primal Pit Paste, Fat & Co, Hippie Pits), and none have worked for me the way the florapothecarie deodorant does - even without baking soda! I first tried this deodorant in the summer of 2019 during a hiking trip. I was sweating a lot, and yet I never had the same funky smell that would happen with the other natural deodorants. It felt like a miracle..." ~ Liz E.
⭐️⭐️⭐️⭐️⭐️

Rose & Willow Cleanser

"This cleanser is a life saver! After changing a medication, I started breaking out as an adult after having clear skin my entire life. I'm embarrassed to say that I didn't get my hopes high initially because my skin became very sensitive and every super expensive, high end cleanser made me break out. BUT THIS DOES MAGIC. It's very gentle but cleans thoroughly. It makes your skin feel light and smooth... I love absolutely everything about it." ~ Eleanor S.
⭐️⭐️⭐️⭐️⭐️

Rejuvenating Facial Serum

"I have tried a lot of oils and serums that claim they absorb quickly and do not leave the skin oily or shiny. This serum is the first the actually do it! My skin just drinks it in and I am left with a radiant bright face without the heavy shine. I don't have to wait more then a few minutes then I can start putting make up on over it. It doesn't feel heavy and just does an amazing job. Just cant say enough about my love of this serum!"
~ Libby W.
bathe like a goddess
with flower-filled bath salt soaks,
herbal bath teas, and Cleopatra-inspired coconut milk baths.
Always 100% natural & vegan.
natural beauty tips, tutorials & rituals
from the florapothecarie blog
Coconut oil is a wondrous natural ingredient, rich in vitamins, minerals and fatty acids and incredibly moisturizing. That's why it's mixed in to so many of my products! Read on for six reasons to love coconut oil.