DIY All-Natural Face Wash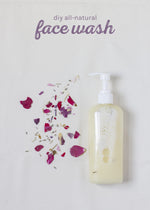 Unlike big-brand cleansers, this face wash contains no harsh surfactants, so it doesn't strip away our skin's natural oil. Rather, the jojoba oil and castile soap combine to gently remove dirt without drying out your face. It's perfect for those with sensitive or problem skin, dry or oily. The recipe comes straight from my DIY Natural Beauty on a Budget eBook. 
Not ready to make your own? Try our Rose & Willow Facial Cleanser!
Wanna DIY it? Here's what you will need:
1 8oz bottle — I recommend these.
a funnel
1 cup castile soap — a very mild soap made from olive oil
1 tbs jojoba oil or sweet almond oil — similar to our skin's natural oils; it penetrates deeply without leaving an oily residue & is suitable for all skin types
1 tsp rosewater (rose hydrosol) — works as an astringent to balance skin; fights acne
a few sprigs of dried rosemary — rosemary is an antiseptic and encourages cell regrowth
11 drops of lavender essential oil — antiseptic, heals blemishes
5 drops of tea tree oil — strong antibacterial, disinfects and heals acne
Place the funnel on top of your bottle and add the castile soap, jojoba oil, and rose floral water into the bottle. Remove the funnel and drop in your rosemary, then add the lavender. Shake it up! And that's all there is to it! Be sure to shake well before each use, as your ingredients will separate. As with any new body products, you will likely need to try this out for 2-3 weeks before your skin becomes acclimated to it. I'd love to hear what you think!
If you'd rather buy than make, try our Rose + Willow Facial Cleanser!
Based on the recipe you see above, with some added acne-fighting and moisturizing ingredients. This mild cleanser is formulated with a base of rosewater, Castile soap, vegetable glycerin, and jojoba oil which preserve your skin's natural oils and balance oil production while cleansing. Known acne-fighters white willow bark and tea tree oil keep blemishes away, and essential oils of geranium, lavender, and rosemary soothe skin and regenerate cells.
Customers are loving this gentle natural alternative to harsh cleansers! Here's what they're saying:
"I love this cleanser SO MUCH! It smells so good and makes my skin extremely soft. I've always had dry skin and have never been able to find a skin regimen that I liked. Finally found one in this 3 step system. I use the cleanser, toner and serum. Love all three and have noticed less redness in my face and less breakouts. Highly recommend!" – Kristen A.
"Loving this cleanser, the willow is so healing. I have super sensitive skin, and it helps clean off makeup residue and doesn't leave my skin dried out or irritated." – Ash K. 
"This is the first time that I've bought from Florapothecarie, after hearing her on the Being Boss podcast, and I can say with all confidence that I will never use anything else besides this product. I've only had it for 3 days and using this twice a day has already made a huge difference. My skin feels much softer, the redness has reduced, and my acne (which is the worst type of acne, cystic, mind you), has decreased dramatically. It's so incredibly nice to actually use a product that nurtures your skin and doesn't feel like your face is going to crack with the slightest smile. It smells good and it makes YOU feel good for taking care of your skin! If you're hesitant to try it, don't be. :)" – Brittany