Self Care Routine 1: Nicole Morley #SelfLoveMonth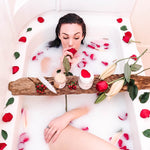 florapothecarie is declaring February to be #SelfLoveMonth. We're celebrating love in all forms, but especially self-love. To celebrate, we've asked a few of our natural beauty friends to share their self-care routines. We hope they will inspire you to take time to care for and love yourself this month and every month. See all self-care routines here.
Our first self-care routine comes from Nicole Morley // Nicole in Colour:
As a yoga teacher, self care is so important to keep myself balanced and energetic. Even taking 10 minutes a day for a nap can work wonders on my mood and productivity. 
I like to go all out and take a full day each month for self care. I start off by making sure I get a full night's rest and sleeping in; no alarms and no pressure to get up at a certain time. I'll always start the day with a healthy breakfast and tea and then I'll treat myself to something that I normally wouldn't do. This could be as simple as going to sit at a cafe and people watch or buying myself a treat or as complex as scheduling a massage or a mani pedi. I always try to incorporate some physical activity into my self care ritual as well like a yoga class or even just stretching out at home. 
At the end of the day I absolutely love the ritual of taking a bath. I'll light candles and play music or a podcast while I soak. I'm completely obsessed with florapothecarie's Rose + Coconut Milk Bath and literally feel like Cleopatra when I use it!
Once I'm done I usually shower to rinse off and I use florapothecarie's Rose Himalayan Salt Scrub (which I use almost everyday) it's the perfect ending to a blissful day and leaves my skin sooooo soft and smooth. After my shower, I'll get in bed and journal or read and then get an early night's sleep! Self care days are always the best, and we need to clear our schedules and treat ourselves more often!
---
Nicole Morley graduated from the School of Visual Arts with a BFA in Photography and a passion for authentic self expression. After working in New York as a Photo Editor she spent five months traveling abroad, ending with a month in Bali completing her yoga teacher training. She now teaches yoga, works as a stylist, and runs Nicole in Colour from her home in Newington, CT.